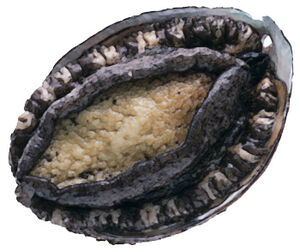 Japanese name
Edit
About abalone
Edit
Abalone is a gastropod mollusk found along the coastlines of California, Mexico and Japan. The edible portion is the adductor muscle, a broad foot by which the abalone clings to rocks. As with any muscle, the meat is tough and must be pounded to tenderize it before cooking.
Eating sustainably
Edit
The best choice for awabi is farmed abalone from the United States.
Ad blocker interference detected!
Wikia is a free-to-use site that makes money from advertising. We have a modified experience for viewers using ad blockers

Wikia is not accessible if you've made further modifications. Remove the custom ad blocker rule(s) and the page will load as expected.