Aoyama Sushi is a cozy Toronto restaurant open every evening after 5. I'm lucky enough to live walking distance away so I've treated myself to their famous dishes a couple times. The staff are super nice and the food has a great reputation in Toronto. The atmosphere is relaxing and they are busy, so call ahead to make a reservation :)
What I Had
Edit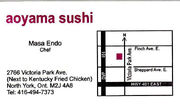 The first time I went I chose the Shrimp Tempura with Spicy Salmon Roll. It was affordable and absolutely delicious. As someone on a student's budget, I'm used to the cheaper, firmer California rolls and sushi from the grocery store, and this melted in my mouth.
The second time I went for Spicy Salmon Rolls and their feature app, Maguro no Tataki, in the first picture. It was spicy and very high quality; I enjoyed it extremely. The rolls were spot on too!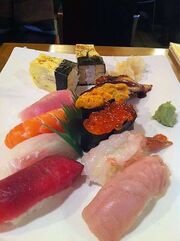 The food is not very expensive, but some dishes are limited and it's a more formal restaurant (not all-you-can-eat) that seems to be a hot date destination. In addition to the usual suspects you find on every Japanese menu, there's a pleasant variety of rolls and lots of more traditional dishes that are just screaming "try me!" Next time I go, I'm itching to taste Ika Shiokara, squid marinated in its own ink, Seafood Zousui, seafood cooked in porridge, and their Rainbow Roll!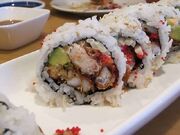 Ad blocker interference detected!
Wikia is a free-to-use site that makes money from advertising. We have a modified experience for viewers using ad blockers

Wikia is not accessible if you've made further modifications. Remove the custom ad blocker rule(s) and the page will load as expected.