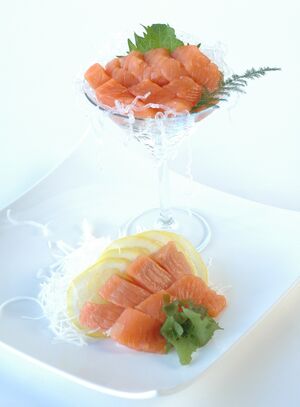 Japanese name
Edit
About arctic char
Edit
The char fish belongs to the Salmonidae family and it is the fish species that has the most northerly distribution of any of the other fresh water fish. The char group belongs to the salmon family and there are two subgroups belonging to it. The first group is a sea-run group and the other one is a fresh water group. The sea chars are usually larger weighing around 2 to 5 kg, while the other chars only weigh from half a kilo to maximum 3. It is also known as the Arctic char because it is the dominant species of the Arctic coast and it was considered to be one of the main food resources for the Inuit. The char has a beautiful coloration and the quality of its flesh is excellent. The char fish is streamlined and mainly trout-like. The color of the char fish varies quite a lot. The sea chars are usually dark blue or green with silver sides and a white belly. The sides are also usually spotted with violet-pink dots.
Eating sustainably
Edit
The best choice for iwana is arctic char which has been farmed in recirculating systems.
Ad blocker interference detected!
Wikia is a free-to-use site that makes money from advertising. We have a modified experience for viewers using ad blockers

Wikia is not accessible if you've made further modifications. Remove the custom ad blocker rule(s) and the page will load as expected.