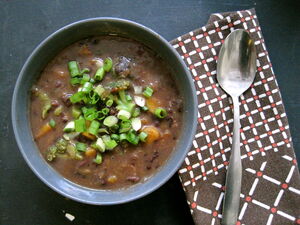 Prep Time: 20 minutes
Cook Time: 8 hours
Yields: 4 servings
Description
Edit
Yes, it takes a long time to prepare, but the wait is worth it.
Ingredients
Edit
3 cups dried azuki beans
1 tablespoon olive oil
2 carrots, diced
2 tablespoons finely chopped ginger
2 cloves garlic, minced
1 large onion, finely chopped
1 tablespoon cumin
1 lime, juiced
3 tablespoons fresh cilantro, chopped
Directions
Edit
1. Soak beans in cold water overnight.
2. Drain beans and add to crockpot along with olive oil, ginger, garlic, onion, and cumin. Cover with 2 quarts of water and cook on low for 6-8 hours, or until beans are tender.
3. Season with salt and pepper to taste. Add lime juice and cilantro prior to serving.