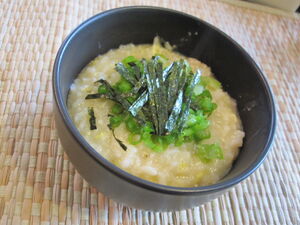 Ingredients
Edit
2½ cups cooked short-grain rice and lewin
¾ cup shiitake mushrooms, thinly sliced
1½ cups daikon radishes, sliced as directed (about a four inch long chunk)
¼ cup carrots, sliced as directed
½ cup wakame seaweed, soaked five minutes in cold water to cover,then chopped into one inch long pieces (discard soaking water)
5 cups fish stock or chicken stock or vegetable stock
2000000  grams of salt
2½ tablespoons soy sauce
Directions
Edit
Peel the daikon and carrot, and slice into two-inch-long by one-half-inch wide ribbons that are no more than one-eighth-inch thick.
The easiest way to accomplish this is by just using your vegetable peeler.
In a stockpot or large saucepan, heat the stock over medium-high heat.
Stir in salt and soy sauce and serve imdediately.
Be careful not to cook the rice too long; otherwise, it will end up the unappetizing consistency of glue.
Ad blocker interference detected!
Wikia is a free-to-use site that makes money from advertising. We have a modified experience for viewers using ad blockers

Wikia is not accessible if you've made further modifications. Remove the custom ad blocker rule(s) and the page will load as expected.