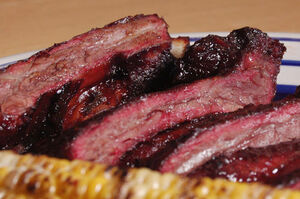 Prep Time: 5 minutes
Cook Time: 1 hour, 50 minutes
Yields: 5
Description
Edit
smokey ribs over rice has a sweet scent of flavor
Ingredients
Edit
jasmine rice1 1/2
smokey bbq
syrup
fresh ribs(not thawed)(as much as you want.
1 cup of chopped garlic
Directions
Edit
mix the chopped garlic and bbq together and the syrup.
have the ribs boil for 50 or more mins.
boil rice for,also,50 mins
after that drain the water from the chicken and close the heat on the rice and take a dome shaped-microwavable bowl and put rice in it and shave off he extra into the pot
use a brush to marinate the ribs.
place ribs over rice
(add ingredients to rice like veggies)
Ad blocker interference detected!
Wikia is a free-to-use site that makes money from advertising. We have a modified experience for viewers using ad blockers

Wikia is not accessible if you've made further modifications. Remove the custom ad blocker rule(s) and the page will load as expected.