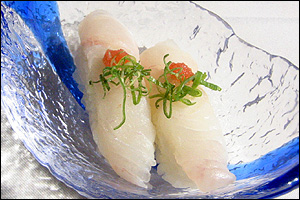 Japanese name
Edit
Hirame
Karei (specifically winter flounder)
About flatfish
Edit
The flatfish are an order (Pleuronectiformes) of ray-finned fish, also called the Heterosomata, sometimes classified as a suborder of Perciformes. The name means "side-swimmers" in Greek. In many species, both eyes lie on one side of the head, one or the other migrating through and around the head during development. Some species face their left side upward, some face their right side upward, and others face either side upward.
Many important food fish are in this order, including the flounders, soles, turbot, plaice, and halibut. There are more than 400 species of this order. Some flatfish can camouflage themselves on the ocean floor.
Generally speaking the name "hirame" is used for many types of flat fish, specifically fluke or summer flounder. The name for winter flounder is really "karei" (kah-ray), but often restaurants do not discriminate between fluke or summer flounder when one asks for hirame. Some restaurants call halibut "hirame," however the actual Japanese word for halibut is "ohyo" (oh-yoh).
Eating sustainably
Edit
Good alternative options for hirame and karei include Pacific flounders and soles.
Atlantic flounders and soles should be avoided.
Ad blocker interference detected!
Wikia is a free-to-use site that makes money from advertising. We have a modified experience for viewers using ad blockers

Wikia is not accessible if you've made further modifications. Remove the custom ad blocker rule(s) and the page will load as expected.