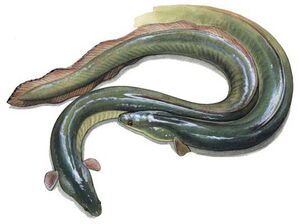 Japanese name
Edit
About freshwater eel
Edit
Unagi (うなぎ) is the Japanese word for freshwater eels, especially the Japanese eel, Anguilla japonica. Saltwater eels are known as anago in Japanese. Unagi are a common ingredient in Japanese cooking. Unagi is served as part of unadon (sometimes spelled unagidon, especially in menus in Japanese restaurants in Western countries), a donburi dish with sliced eel served on a bed of rice. A kind of sweet biscuit called unagi pie made with powdered unagi also exists. Unagi is high in protein, vitamin A, and calcium.
Specialist unagi restaurants are common in Japan, and commonly have signs showing the word unagi with hiragana う (transliterated u), which is the first letter of the word unagi. Lake Hamana in Hamamatsu city, Shizuoka prefecture is considered to be the home of the highest quality unagi; as a result, the lake is surrounded by many small restaurants specializing in various unagi dishes. Unagi is often eaten during the hot summers in Japan. There is even a special day for eating unagi, the midsummer day of the Ox (doyo no ushi no hi).
Eating sustainably
Edit
Ad blocker interference detected!
Wikia is a free-to-use site that makes money from advertising. We have a modified experience for viewers using ad blockers

Wikia is not accessible if you've made further modifications. Remove the custom ad blocker rule(s) and the page will load as expected.