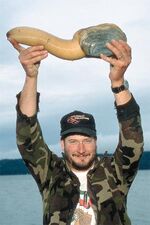 Japanese name
Edit
About giant or geoduck clam
Edit
This huge, funny-looking soft-shell clam hails from the Pacific Northwest. It averages 3 pounds in weight and is distinguished by a long (up to 18-inch) neck (siphon) that extends from its 6-inch shell, The neck can be cut or ground and used in chowders. The body meat, when sliced, pounded and sautéed, resembles Abalone.
Eating sustainably
Edit
The best choice for mirugai is wild-caught geoduck clam.
Ad blocker interference detected!
Wikia is a free-to-use site that makes money from advertising. We have a modified experience for viewers using ad blockers

Wikia is not accessible if you've made further modifications. Remove the custom ad blocker rule(s) and the page will load as expected.