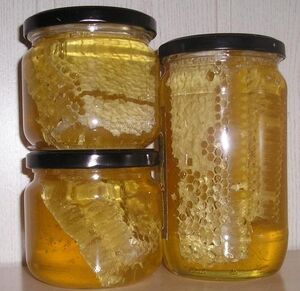 About honey
Edit
Honey is a sweet food made by honey bees using nectar from flowers. The variety produced by honey bees (the genus Apis) is the one most commonly referred to and is the type of honey collected by beekeepers and consumed by humans. Honey produced by other bees and insects has distinctly different properties.
Honey bees form nectar into honey by a process of regurgitation and store it as a food source in wax honeycombs inside the beehive. Beekeeping practices encourage overproduction of honey so that the excess can be taken without endangering the bee colony.
The main uses of honey are in cooking, baking, as a spread on breads, and as an addition to various beverages such as tea and as a sweetener in some commercial beverages. According to international food regulations, "honey stipulates a pure product that does not allow for the addition of any other substance...this includes, but is not limited to, water or other sweeteners". Honey barbecue and honey mustard are common and popular sauce flavors.
Honey is the main ingredient in the alcoholic beverage mead, which is also known as "honey wine" or "honey beer". Historically, the ferment for mead was honey's naturally-occurring yeast. Honey is also used as an adjunct in beer.
Ad blocker interference detected!
Wikia is a free-to-use site that makes money from advertising. We have a modified experience for viewers using ad blockers

Wikia is not accessible if you've made further modifications. Remove the custom ad blocker rule(s) and the page will load as expected.