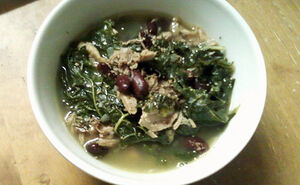 Prep Time: 15 minutes
Cook Time: 50 minutes
Yields: 6 servings
Description
Edit
Ingredients
Edit
1 cup uncooked adzuki beans
1 tablespoon olive oil
2 cloves garlic, peeled and crushed
6 cups roughly chopped kale
2 tablespoons water
1/4 cup tamari
1 teaspoon ground cumin
1 teaspoon ground coriander
salt and pepper to taste
Directions
Edit
1. Place azuki beans in a medium saucepan. Add enough water to cover the beans. Bring beans to a boil, reduce heat, and simmer 30-45 minutes, or until tender.
2. Heat olive oil in a medium skillet over medium heat, and sauté garlic for about 1 minute.
3. Mix in kale and 2 tablespoons water. Season kale with tamari, cumin, and coriander.
4. Add azuki beans to kale and mix in thoroughly. Reduce heat to low, cover and simmer for about 20 minutes, or until kale is tender. Season with salt and pepper to taste.
5. Serve.
Ad blocker interference detected!
Wikia is a free-to-use site that makes money from advertising. We have a modified experience for viewers using ad blockers

Wikia is not accessible if you've made further modifications. Remove the custom ad blocker rule(s) and the page will load as expected.