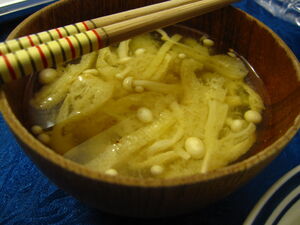 Prep Time: 30 minutes
Cook Time: 10 minutes
Yields: 4-6 servings
Description
Edit
Ingredients
Edit
2 Shiitake mushroms
1 cluster Enoki mushrooms
1 piece fresh ginger lol
Sauce:
5 tbsp. soy sauce
2 tbsp. sake
2 tbsp. mirin
1 c. dashi
salt to taste
Directions
Edit
1. Soak shitake for 10-15 minutes. Remove from water and cut into thin slices.
2. Repeat the process for enoki mushrooms, cutting mushroom into 1-inch lengths.
3. Chop up fresh ginger.
4. Mix sauce ingredients. Add ginger and bring liquid mixture to a boil. Allow to boil for 30 seconds to 1 minute, and add the mushrooms to the sauce and reduce heat to medium. Continue to simmer until all the broth has evaporated.
5. Serve.
Ad blocker interference detected!
Wikia is a free-to-use site that makes money from advertising. We have a modified experience for viewers using ad blockers

Wikia is not accessible if you've made further modifications. Remove the custom ad blocker rule(s) and the page will load as expected.