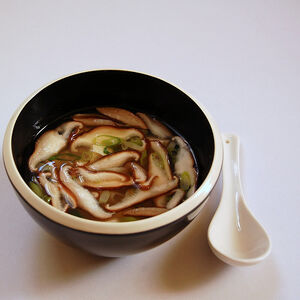 Prep Time: 10 minutes
Cook Time: 20 minutes
Yields: 4 servings
Description
Edit
I first had this soup at a Japanese restaurant in New York, although I don't remember the name. Of course this is not the EXACT recipe, but I've worked on it for years and I'm pretty sure it's as close as it can get.
Ingredients
Edit
1 tablespoon Hon-Dashi
3 cups water
3 spring onions, sliced finely
3 fresh shiitake mushrooms
7 oz. silken tofu, cubed
1 tablespoon Dulse Flakes
Directions
Edit
1. In a saucepan, add the hon-dashi to the water and let it heat up.
2. Once the dashi has dissolved, add the spring onions and shiitake. Simmer for a couple of minutes before adding the tofu and dulse flakes.
3. Continue cooking on a low heat until the ingredients have warmed through. Serve immediately.
Ad blocker interference detected!
Wikia is a free-to-use site that makes money from advertising. We have a modified experience for viewers using ad blockers

Wikia is not accessible if you've made further modifications. Remove the custom ad blocker rule(s) and the page will load as expected.