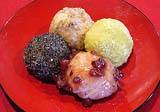 Prep Time:
Cook Time:
Yields: about 32 rice balls
Ohagi is a sweet made from glutinous rice made with azuki paste. Mochi shops in Japan often put these out during Autumn and is associated with Hagi, a bush clover.
Traditionally, the rice is soaked for 6-12 hours and is made in huge batches just like mochi.
Ingredients
Edit
for rice balls: glutinous rice(mochi gome)- 2 1/2 cups
japanese rice- 1/2 cup
water- 3 cups
for toppings:anko(azuki sweet bean paste) 3/4 pounds
crushed walnuts- 1/2 cup and sugar- 2 tablespoons, grinded well
black sesame seeds- 3 tablespoons and sugar- 1 1/2 tablespoons, grinded well
kinako(soybean powder)- 1/3 cup and sugar-2 tablespoons, mixed
Directions
Edit
Put both kinds of rice in bowl, wash with cold water. Drain rice in colander and set aside for half hour. Place rice in rice cooker and add measured water. Let rice soak in water for half hour. Start cooker. Put preparred toppings, like anko and sesame seeds, into separate bowls. Once rice is cooked, let steam for 15 minutes. Mash rice with wooden pestle until sticky. Wet hands and shape rice into oval balls. Cover the rice balls with different toppings.
Ad blocker interference detected!
Wikia is a free-to-use site that makes money from advertising. We have a modified experience for viewers using ad blockers

Wikia is not accessible if you've made further modifications. Remove the custom ad blocker rule(s) and the page will load as expected.