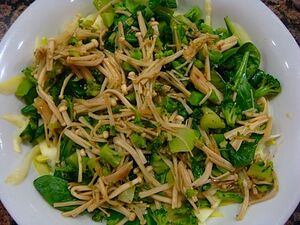 Prep Time: 5 minutes
Cook Time: 10 minutes
Yields: 4 servings
Description
Edit
Ingredients
Edit
1 1/2 teaspoons peanut oil
1 tablespoon finely chopped fresh ginger
1 tablespoon finely chopped garlic
2 tablespoons finely chopped green onion
1 pound broccoli stems, peeled and cut into 1/4 by 1/4 by 2-inch pieces
1 teaspoon chile paste
1 tablespoon rice wine
1 tablespoon light soy sauce
2 teaspoons dark soy sauce
1 teaspoon sugar
Salt
1/4 cup water
1 teaspoon finely ground Sichuan peppercorns
1/2 pound fresh enoki mushrooms, stems trimmed
Directions
Edit
1. Heat a wok (or deep sauté pan) on a high setting. Add oil.
2. Add ginger, garlic, green onions and stir fry to wok and stir fry for 30 seconds.
3. Add broccoli and stir-fry for 1 minute.
4. Stir in chili paste, rice wine, soy sauces, sugar, and salt to taste. Allow mixture to simmer for 1 minute, and pour in water. Continue to cook for 3 minutes, or until vegetables are tender.
5. Add enoki mushrooms and mix well.
6. Serve immediately.
Ad blocker interference detected!
Wikia is a free-to-use site that makes money from advertising. We have a modified experience for viewers using ad blockers

Wikia is not accessible if you've made further modifications. Remove the custom ad blocker rule(s) and the page will load as expected.