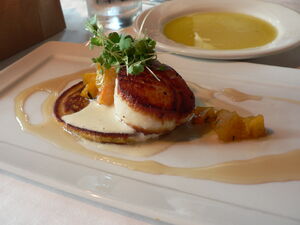 Japanese name
Edit
About scallops
Edit
A scallop (pronounced /ˈskɒləp/ or /ˈskæləp/) is a marine bivalve mollusc of the family Pectinidae. Scallops are a cosmopolitan family, found in all of the world's oceans. Many scallops are highly prized as a food source. The brightly-colored, fan-shaped shells of some scallops with their radiating fluted pattern are valued by shell collectors.
Eating sustainably
Edit
A good alternative option for hotate is to use American Atlantic wild-caught sea scallops.
Ad blocker interference detected!
Wikia is a free-to-use site that makes money from advertising. We have a modified experience for viewers using ad blockers

Wikia is not accessible if you've made further modifications. Remove the custom ad blocker rule(s) and the page will load as expected.