Description
Edit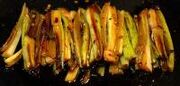 I serve this quick side dish when I'm cooking a Japanese meal. This is one of the few ways I enjoy celery cooked.
Ingredients
Edit
Directions
Edit
Cut the celery sticks into 4 cm lengths, then finely shred these vertically.
Slice the chili thinly.
Stir-fry over a moderate heat for 1 minute, then add the soy sauce and continue stir frying for a further minute or two and until all the liquid has evaporated.
To keep the celery crisp, evaporate the liquid quickly.
Ad blocker interference detected!
Wikia is a free-to-use site that makes money from advertising. We have a modified experience for viewers using ad blockers

Wikia is not accessible if you've made further modifications. Remove the custom ad blocker rule(s) and the page will load as expected.