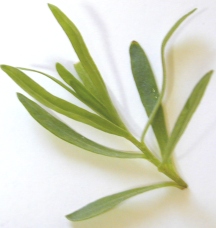 About Tarragon
Edit
Tarragon or dragon's-wort (Artemisia dracunculus) is a perennial herb, a member of the daisy family (Asteraceae) and a close relative of wormwood. Tarragon is one of the four fines herbes of French cooking, and particularly suitable for chicken, lasagna, fish and egg dishes. Tarragon is one of the main components of Béarnaise sauce. Fresh, lightly bruised sprigs of tarragon may be steeped in vinegar to impart their flavor.
Tarragon is used to flavor a popular carbonated soft drink in the countries of Azerbaijan, Armenia, Georgia and, by extension, Russia and Ukraine. The drink, named Tarhun, pronounced [tarˈxuːn]; Тархун), is made out of sugary tarragon concentrate and colored bright green.
Cis-Pellitorin, an isobutylamide eliciting a pungent taste, has been isolated from Tarragon plant.
In Slovenia, tarragon is used as a spice for sweet pastry called potica.
Ad blocker interference detected!
Wikia is a free-to-use site that makes money from advertising. We have a modified experience for viewers using ad blockers

Wikia is not accessible if you've made further modifications. Remove the custom ad blocker rule(s) and the page will load as expected.