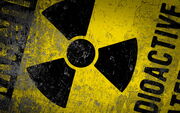 We knew there had to be fallout (literally) from the Japanese nuclear power plant crisis. We just didn't figure it would arrive on a lacquer plate. Ever since the devastating earthquake and subsequent tsunami, Japanese companies that supply fish to West Coast restaurants have had trouble bringing their product to market. And that was before the threat of a nuclear meltdown loomed.
"Radioactive material is easily diluted by seawater, so 'fish and seafood are likely to be unaffected,'" the FDA told the Wall Street Journal. Whew.
That said, the journal reports that the "FDA is taking 'all steps' to evaluate and measure any contamination of fish and other food products. So, if a vast radioactive cloud dissipates over the Pacific Ocean, chances are your tuna roll won't glow in the dark. However, a little radioactivity could give some extra kick to your wasabi, not to mention a possible spike in web traffic for Ohio-based rock band Radioactive Sushi. Just say'n.
Ad blocker interference detected!
Wikia is a free-to-use site that makes money from advertising. We have a modified experience for viewers using ad blockers

Wikia is not accessible if you've made further modifications. Remove the custom ad blocker rule(s) and the page will load as expected.