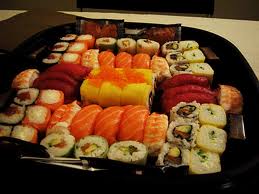 Maybe you've had one of those large hand rolls at a sushi restaurant, the kind you can barely fit in your mouth, and told yourself that was huge sushi. Think again. A sushi restaurant in Japan has begun to make enormous sushi--so large that it costs 15,000 yen (similar to $196). This comically large sushi contains twenty different foods wrapped in about six and a half feet of seaweed. It's pretty much a dream come true.
Watch the video of the chef making giant sushi!
Source: eater.com
Ad blocker interference detected!
Wikia is a free-to-use site that makes money from advertising. We have a modified experience for viewers using ad blockers

Wikia is not accessible if you've made further modifications. Remove the custom ad blocker rule(s) and the page will load as expected.